An Interdisciplinary Network on the Methodology and Applications of Integrative Research Methods
Mixed method and multimethod designs are a common research strategy in a broad spectrum of social science disciplines today. Especially the combination of qualitative and quantitative methods traditions is now widely acknowledged as a powerful tool for increasing the scope and validity of social research.
However, the popularization of mixed methods and multimethod research (MMMR) has also produced new challenges. Among those is the question of how to integrate the great diversity of current methodological conceptualizations of MMMR, which at times seems far from finding a common language. Also, methodological discourse on MMMR tends to remain within the boundaries of specific research fields, such as political science, educational science, or psychology, despite the interdisciplinary drive of the mixed methods approach.
The network Mixed Methods and Multimethod Social Research promotes an intensified interdisciplinary and international dialog between reserachers in the MMMR field. Its central topics mirror current methodological issues, such as MMMR approaches to causal analysis, integrative methods of data collection and analysis, or quality criteria and best-practice standards.
Six biannual workshop meetings structure the network activities and provide an opportunity to develop joint research projects and exchange ideas and criticism with international experts in the field.
The network is funded by the German Research Foundation . The network started its activities in January 2018 and will receive funding over a period of three years. Its membership  includes early career researchers as well as experienced experts from Germany, Austria and Switzerland, working in the fields of sociology, political science, educational science, and psychology.
The Research Network "Mixed and Multi-Method Social Research" will hold its second workshop-meeting on July 6/7 2018 at Cologne University. The topic will be Mixed Methods and Multimethod Research for Causal Analysis.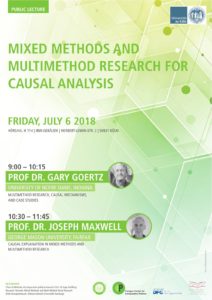 We are very happy to welcome Gary Goertz (University of Notre Dame) and Joseph Maxwell (George Mason University) as guest speakers! Keynote lectures by Gary and Joseph are scheduled for July 6 and will be open to the university public. Join us at the IBW-Building, Auditorium H114, Herbert-Lewin-Str. 2, 50931 Cologne.