Within the flagship project "Cabin Technology and Multifunctional Fuel Cell System" deals the subproject "Design and analysis of the fuel cell grid" with a high efficiency weight optimized power supply based on a multi functional fuel cell system. This project is realized by the Institute of Electrical Power Systems at Helmut Schmidt University in cooperation with Airbus Operations GmbH.
The application of a fuel cell system as an APU alternative has many advantages compared to the conventional auxiliary power unit (APU). To achieve these benefits, the fuel cell system design has to ensure that all connected consumers are supplied sufficient with electrical power. Therefore, an optimized architecture of the fuel cell system must be developed.
To improve the electrical dynamics of the fuel cell especially during high peak power demands different methods are considered. One approach could be the integration of a short time energy storage as illustrated in the figure.
For availability and redundancy the fuel cell system has to split into two subsystems. Furthermore the two subsystems have to be connected in parallel to bundle the power delivery and to balance the power. This complex structure requires smart safety arrangements to protect the grid in case of failures.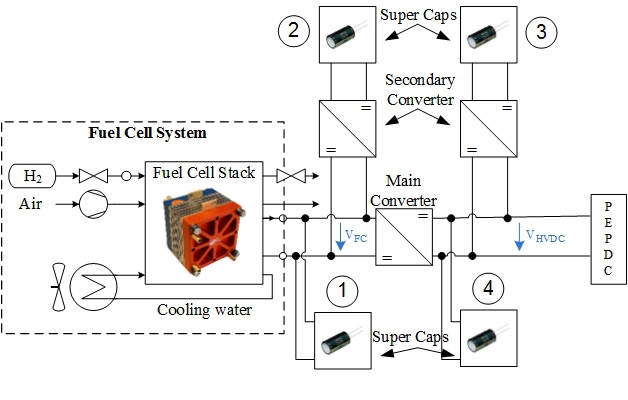 Contact Person:
Prof. Dr.-Ing. habil. Detlef Schulz (project manager)
Faculty of Electrical Engineering
Electrical Power Systems
Cooperation Partner: Airbus Operations GmbH
Letzte Änderung: 28. May 2021