Overview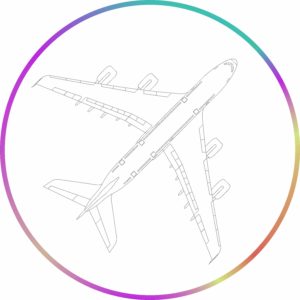 The research cluster "Aeronautics Research" of Helmut Schmidt University / University of the Federal Armed Forces Hamburg introduces its engineering skills for innovative solutions as a reliable partner of the aeronautic industry. Unique features are high level of expertise of the cooperating scientists, their highly networked working methods and the excellent laboratory equipment with high-quality test benches and measurement systems. Examples are the newly constructed laboratory hall for A400M cabin tests as well as several laboratory test benches for studies on airborne power-supply systems.
Helmut Schmidt University is a member of Hamburg Aviation and ZAL GmbH, for which the aeronautics research cluster is an active strategic partner. In research projects we cooperate with national and international scientific partners as well as with aerospace industry, especially Airbus GmbH, Lufthansa Technik AG and other companies in the field of aeronautics.
Within the leading-edge cluster "Aeronautics Research", which is funded by BMBF and the city of Hamburg, the participating scientists could make valuable contributions to multifunctional use of fuel cells in civil aircraft, optimisation of future manufacturing processes, enhanced cabin acoustics and the architecture of future airborne power-supply systems. The expertise of the participating professorships are shown in detail.
Projects
In the interdisciplinary research cluster "Aeronautics Research" three different departments of Helmut Schmidt University cooperate. The following shows current projects in the field of aeronautics.
1. Leading-Egde cluster for place of aviation metropolitan area Hamburg

Holistic real-time environment for measurement and control of acoustics in cabins of aircraft
Prof. Dr.-Ing. D. Sachau (Mechatronics, Department of Mechanical Engineering)
Devarnishing of components
Cooperation partner: Lufthansa Technik
Prof. Dr.-Ing. A. Fay (Automation Engineering, Department of Mechanical Engineering)
2. Flagship project "Cabin technologies and multifunctional fuel cells" in leading-edge cluster for place of aviation metropolitan area Hamburg

Subproject "Analysis and design of modular, highly efficient converters for fuel cell applications",
Cooperation partner: Airbus Operations GmbH
Prof. Dr.-Ing. K. F. Hoffmann (Power Electronics, Department of Electrical Engineering)
Subproject "Concepts for architectures of power-supplies in aircraft cabins",
Cooperation partner: Airbus Operations  GmbH

Topic 1:
Innovative electrical power grids for an optimized power-supply in aircraft cabins
Prof. Dr.-Ing. habil. D. Schulz (Electrical Power Systems, Department of Electrical Engineering)
Topic 2:
Optimized cabin power-supplies in modern aircraft by use of higher DC-voltages
Prof. Dr.-Ing. habil. D. Schulz (Electrical Power Systems, Department of Electrical Engineering)
Subproject "Multifunctional fuel cells for aviation",
Cooperation partner: Airbus Operations GmbH
Prof. Dr.-Ing. J. Horn (Control Engineering, Department of Electrical Engineering)
Subproject "Concept analysis of an electrical fuel cell integration in modern aircraft",
Cooperation partner: Airbus Operations GmbH
Prof. Dr.-Ing. habil. D. Schulz (Electrical Power Systems, Department of Electrical Engineering)
3. Research Association "E-Motion"

Subproject "Free-Flight Optimisation"
(Planning of flight routes under consideration of weather and crossing cost in 4D space)
Cooperation partner: Lufthansa Systems AG u.a.
Prof. Dr. A. Fügenschuh (Applied Mathematics, Department of Mechanical Engineering)
4. DFG joint project "Integrated module monitoring in fiber composites by means of lambda wave analysis"

Subproject "Modelling of lambda wave propagation in fiber composite structures and survey on generic damages"
Cooperation partner: Lufthansa Technik, EADS-Innovation Work and Novicos
Prof. Dr.-Ing. R. Lammering (Mechanics, Department of Mechanical Engineering)
5. Auto-adapting cabin power network – Self configurating power system onboard aircraft (ACAPONE)

Cooperation partner: EADS / Airbus Operations GmbH
Prof. Dr.-Ing. habil. D. Schulz (Electrical Power Systems,Department of Electrical Engineering)
6. Audio interior for small aircraft

Prof. Dr.-Ing. D. Sachau (Mechatronics, Department of Mechanical Engineering)
7. Flexible and energy-efficient airborne power-supply systems – Development of a flexible energy supply architecture with intelligent switching node (FlexKab)
Cooperation partner: EADS / Airbus Operations GmbH
Prof. Dr.-Ing. habil. D. Schulz (Electrical Power Systems, Department of Electrical Engineering)
8. Development of a Secondary Power Distribution Box

Cooperation partner: Airbus Operations GmbH
Prof. Dr.-Ing. habil. D. Schulz (Electrical Power Systems, Department of Electrical Engineering)
9. Test bench for PEM fuel cells

Prof. Dr.-Ing. J. Horn (Control Engineering, Department of Electrical Engineering)
10. Power electronics for fuel cells

Cooperation partner: Airbus Operations GmbH
Prof. Dr.-Ing. K. F. Hoffmann (Power Electronics, Department of Electrical Engineering)
11. Development of a test bench for a future electric cabin power supply in aircraft

Cooperation partner: Airbus Operations GmbH
Prof. Dr.-Ing. habil. D. Schulz (Electrical Power Systems, Department of Electrical Engineering)
12. Development of a demonstrator for power management systems

Cooperation partner: Airbus Operations GmbH
Prof. Dr.-Ing. habil. D. Schulz (Electrical Power Systems, Department of Electrical Engineering)
13. Development of an iPad application as a demonstrator management

Cooperation partner: Airbus Operations GmbH
Prof. Dr.-Ing. habil. D. Schulz (Electrical Power Systems, Department of Electrical Engineering)
14. Smart-Cabin-Grid measurement

Cooperation partner: Airbus Operations GmbH
Prof. Dr.-Ing. habil. D. Schulz (Electrical Power Systems, Department of Electrical Engineering)
15. Load Balancing

Cooperation partner: Airbus Operations GmbH
Prof. Dr.-Ing. habil. D. Schulz (Electrical Power Systems, Department of Electrical Engineering)
16. Meshed Grids in Cabin and Cargo

Cooperation partner: Airbus Operations GmbH
Prof. Dr.-Ing. habil. D. Schulz (Electrical Power Systems, Department of Electrical Engineering)
Letzte Änderung: 13. May 2019