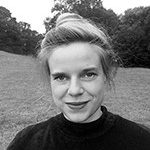 Visitor address
Helmut-Schmidt-University
House H01
Holstenhofweg 85
22043 Hamburg
Postal address
Helmut-Schmidt-Universität
Microsociology
Postfach 70 08 22
22008 Hamburg
Lisa Wiedemann has been working as a postdoctoral researcher at the Department of Microsociology (HSU) since August 2019. Previously, she worked at the Professorship for Science and Technology Studies at HafenCity University Hamburg.
Lisa received her PhD in 2019 with an ethnographic study on digital practices of self-quantification in medical and everyday settings (nominated for the German Study Award 2020). After studying sociology, empirical cultural studies/cultural history and education at Friedrich Schiller University in Jena, she completed a research semester at the Birmingham Centre for Media and Cultural Research as a Leonardo scholar in 2012. She has lectured at several universities, including the University of Hildesheim and the University of Hamburg, and is a member of the editorial collective of the journal "ephemera: theory and politics in organization."
In her research she draws on praxeographic approaches and perspectives from Science and Technology Studies. In doing so, she poses questions about the affective, socio-material and embodied dimensions of the experience of intimate entanglement with digital health technologies. She is interested in the multiple realities and complexities of living with a chronic illness, in the context of type 1 diabetes and elusive medical conditions such as long COVID, and is researching the potential of co-design in the development of care technologies.
Letzte Änderung: 18. October 2022