BMWi-Project (FKZ 03ET6133A)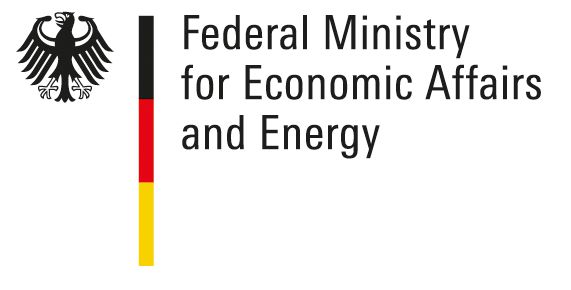 High-pressure-electrolyser systems for the generation of hydrogen from excess electrical current especially from renewable energy sources are an important building block for a flexible energy supply. These electrolysers transform electrical energy into hydrogen (i.e. chemical energy) which is stored in hydrogen tanks or fed into the existing gas distribution system up to 5 Vol.-%.
In order to feed more than 5 Vol.-% chemical transformed electrical energy into the gas distribution system, hydrogen is transformed into methane by adding carbon monoxide and/or carbon dioxide at temperatures between 200 – 700 °C. This process is called Sabatier-Process while the transformation of electrical energy into hydrogen/methane is called Power-to-Gas (P2G).

The most relevant state-of-the-art P2G process according to Sabatier has the following drawbacks:
The methanation occurs in a different device than the electrolysation. Synergies in temperature are not used which leads to lower energy efficiencies
Additional appparatus costs
Costs of the methanation can be reduced by an internal methanation in the gas exhaust pipe of the electrolyser. Thus, the methanation efficiency can be increased especially since the heat of the electrolyser can be directly used for the methanation process. Furthermore, there is no additional apparatus needed anymore which leads to an overall cost reduction.
This subproject investigates the combination of an electrolyser unit together with a methanation unit in a single device to enhance the overall efficiency and to reduce the system's costs (Figure 2). Especially for high temperature electrolysers with an integrated internal methanation reaction, no additional heating process is needed.
Project partner:
The project StBZuEL – Development and Test of Electrically Controllable Membrane Units in Polymer Electrolyte Fuel Cells and Electrolysers with an Internal Methanation Unit in the Gas Exhaust Pipe is realized in cooperation with Altran Germany S.A.S. & Co. KG.
Sources:
[1] Schulz, D.: Brennstoffzellenmembraneinheit, steuerbare Brennstoffzelle und Hochdruckelektrolysezelle, 15.12.2011, Patent DE 10 2011 088 613
[2] Schulz, D.: INTERNALLY CONTROLLABLE FUEL CELL, United States Patent, Patent No.: US 9,437,887 B2, Sep.6, 2016
[3] Schulz, D.: INTERNALLY CONTROLLABLE FUEL CELL, European patent No. 2791392, 16.08.2017
[4] Schulz, D.: INTERNALLY CONTROLLABLE FUEL CELL, Chinese patent, Patent No.: ZL2012800617937, 6.12.2017
[5] Schulz, D.: HIGH EFFICIENCY FUEL CELL, European patent No. 2978875, 07.03.18
[6] Schulz, D.: HIGH EFFICIENCY FUEL CELL, Chinese patent, Patent No.: ZL 2014800178483, 22.06.2018
[7] Schulz, D.: HIGH EFFICIENCY FUEL CELL, United States Patent, Patent No.: US 1050235506 B2, Jul. 17, 2018
Contact:
Prof. Dr.-Ing. habil. Detlef Schulz (project lead)
Marc Schumann, M.Sc.
Jan Friedrich M.Sc.
Faculty for Electrical Engineering
Electrical Energy Systems
Letzte Änderung: 13. May 2019