Bravo Batallion, Student Body Regiment (German: Studierendenfachbereich – StudFBer B) is responsible for the officers and cadets studying Educational Science, History, and Psychology. Its tasks include military education and training, care and assistance, and personnel work.
The Battalion's military training includes both theoretical and field training (e.g. weapons and combat training) as well as service branch information. Being an integral part of the university, the Battalion works closely with its academic counterpart, the faculty of humanities and social sciences.
The Commander is usually an air force lieutenant colonel (doubling as Senior Air Force Officer on Campus) and responsible for guidance, discipline, and military training of all student officers and cadets serving under his command.
The Battalion consists of eight companies, each including up to 150 students and commanded by an army or air force captain or a navy lieutenant.
---
Structure
---
Commander Bravo Battalion
Lieutenant Colonel Julian Becker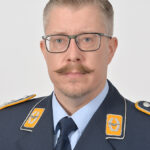 Phone:
+49 (0)40 6541 4200
Visitor address
Helmut-Schmidt-University
Building 50
Stoltenstrasse 13
D-22119 Hamburg
Postal address
Helmut-Schmidt-University
Student Body Regiment
B Battalion
Post Office Box 70 08 22
D-22008 Hamburg
Letzte Änderung: 5. April 2023