Laboratory of the Chair of Electrical Machines and Drive Systems
The electric machine laboratory consists of a workshop with a 5t assembly crane. Via a driveway and floor hatches, devices with large dimensions and weights can be transported into the hall. In the laboratory, 12 clamping plates for experimental setups are available.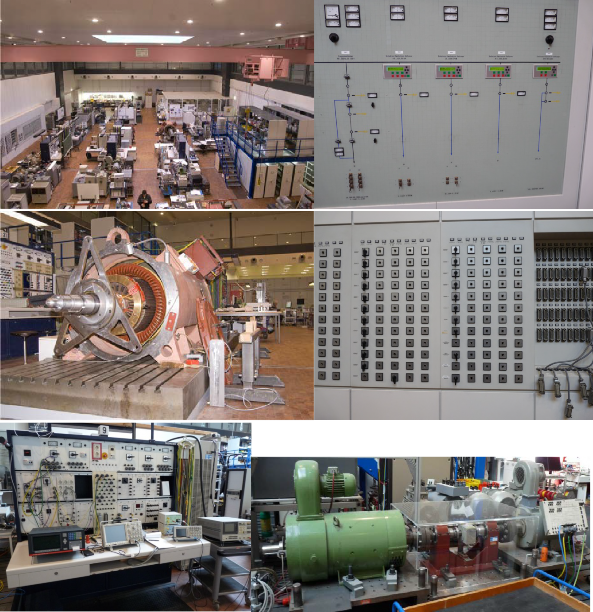 Illustrations of the laboratory: Overview image with workstations (top left), power supply (top right), test setup (center left),
crossbar distributor (center right), stress analysis workstation 9 (bottom left), test setup for machine characterization (bottom right)
The power supply of the test stands is provided by rotating converters located in the basement and a three-phase power supply per workstation. The distribution to the test benches is done via a crossbar distributor. Furthermore, a number of static converters are available for the test benches.
Rotating converters:
3 Phase power supply, rating 3 x 63A
3 phase variable transformer 0 – 500V, 50kVA
DC 0 – 440V, 50kW
Frequency converter 100 – 500Hz, 20 – 500V, rating app. 50kVA
Frequency converter 15 – 100Hz, 20-500V, rating appr. 50kVA
Static converters:
Bidirectional 3-phase power supply 10 – 1000Hz
DC power supply 0 – 500V, 0 – 600A up to 40kW
3 phase power supply 45 -5000 Hz, 15kVA
3 phase power supply realized by a linear amplifier 0 – 30kHz, up to 15kVA
Several electronic loads for DC
4-Quadrant linear amplifier (Hubert), 250W, 2 channels 0 – 1MHz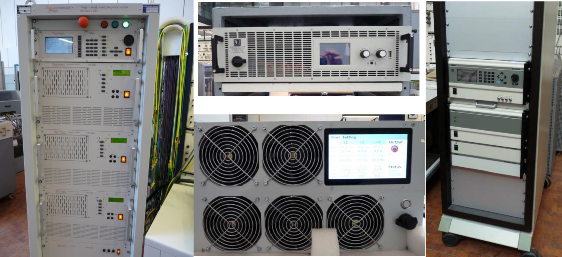 The image shows static converter, linear amplifiers by Spitzenbergerg & Spieß , Heiden Power and ELGAR as well as DC-
power-sources and sinks
Measurement Equipment:
Power Meter Yokogawa WT1800 ( up to 6 channels)
Power Meter Norma 4000, 6000
Torque measuring flange HBM 2 -500Nm for several rotational speed ranges
Function generators (Tektronix and HP)
Mixed Signal Oscilloscopes
Data Recorder by HBM
SLM SCADAS Mobile
Dynamic signal analyzer HP 3562A
Teslameter
Thermocamera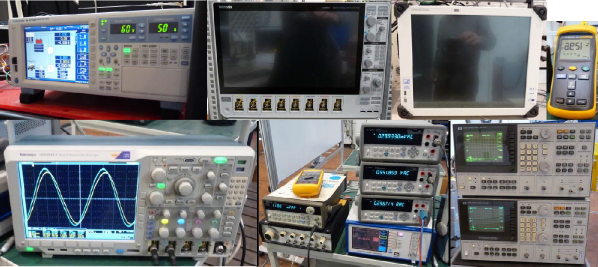 The image shows several measurement devices (power meter oscilloscopes, signal analyzer, RMS
multimeters).
Testbenches:
ETA4000 up to 10.000 rpm, 4kW, vector control load machine
Chassis dynamometer for Ranger vehicle
Test bench for super conductors (cyro pump for 40W of power loss, vacuum chamber ( up to 3×10-2 mbar
Several pendulum machines for torque measurement
High speed test bench for machines up to 50.000rpm, Magtrol eddy current brake
Modal analysis system Siemens LMS Scadas using 24 piezo PCB triaxial sensors
Balancing machine
Universal test bench (Testometric) for measuring forces up to 10kN, tensile, compressing and flexural test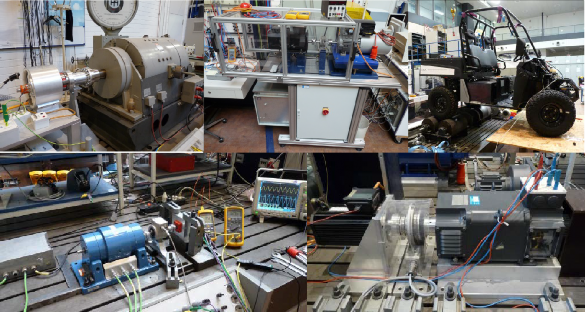 The image shows the balancing machine ETA4000, chassis dynamometer, eddy current brake, servo motor with HBM torque sensor
IT-equipment:
dSPACE HIL Systeme, SCALEXIO, DS1005
Simulation workstations, 40 cores, 1TB RAM, Nvidia Tesla V100

The image shows dSpace SCALEXIO systems (left), dSpace DS1005 (center), National Instruments PXI Box (right)
Simulation Software:
Malab, Simulink, Toolboxen
FEM ANSYS Workbench, academic research Maxwell 2D/3D, RMxprt ANSYS STRUKTURS, ANSYS FLUIDS, ANSYS ELECTRONIKS
PSS SINCAL / Netomac
LMS Test Lab
Labview
dSPACE ControlDesk
Solidworks academic research
Letzte Änderung: 4. January 2021