Within the context of the BMBF-funded medical technology program "Always on site – mobile medical technology solutions for patient-friendly healthcare", the Professorship of Electrical Machines and Drive Systems is working on part of the joint project "Compact fiber ceramic-based X-ray tube for mobile computed tomography scans".

The project target is to make healthcare more patient-friendly, more flexible and more efficient through mobile medical technology solutions.
A central task is the development of innovative approaches, including high-tech materials, to miniaturize existing computed tomographs in such a way that they can be used as a mobile device.

In particular, this will strengthen first aid in the event of accidents and medical care in the countryside.
The task of the institute is the development of a novel drive concept for high-performance rotating anode tubes. The large air gap, which is required for the insulation, represents a particular challenge.
Conventional analytical calculation methods can no longer be used under these conditions.

A completely new approach to the design of electrical machines must be carried out. In addition, the development of the machine is made more difficult by the rotor temperatures of up to 500°C, which requires the use of the latest high-tech materials and the extension of modern design methods.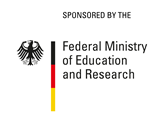 Letzte Änderung: 9. December 2020