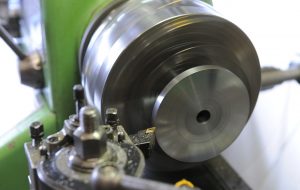 Task:
The task of the central workshop mechanic consists in the manufacturing of special constructions for the research and teaching. The central workshop mechanic is equipped to perform all tasks of the mechanical processing or productions of test samples, devices, test devices and apparatuses.
Functions:
* CAM-processing
* Advice of students and staff
* Model construction
Manufacturing:
* Water jet cutting
* Rapid prototyping
* Rapid manufacturing
* Welding
* Non cutting processing
* Cutting processing conventional and CNC
* Wood- and Holz- und plastic processing
* Warehouse management and storage
* Material blank for laboratory equipment
* Job scheduling
* Technical purchasing (research, price requests and requirements)
* Education (industrial mechanics)
* Trainee apprentice
For more information Intranet of the Central Workshop Mechanic.
Orders can be made in the Campus Net Webshop.
Letzte Änderung: 1. October 2021