Welcome to the homepage of the Chair for International Security and Conflict Studies!
The research interests of Professor Anna Geis and her team include critical security studies, security governance, international political theory, visuality and international politics, democracies' foreign and security policy, the liberal world order and its challenges as well as political violence. For detailed information, please consult research or the individual pages of the team members.
News
New publications:
Hanna Pfeifer/ Anna Geis/ Maéva Clément 2022: The Politics of Recognition, Armed Non-State Actors, and Conflict Transformation, Frankfurt: PRIF Report 4/2022. Access online.
Christian Opitz/Hanna Pfeifer/Anna Geis 2022: Engaging with Public Opinion at the Micro-Level: Citizen Dialogue and Participation in German Foreign Policy, in: Foreign Policy Analysis 18(1). Access online.
Hanna Pfeifer/Christian Opitz/Anna Geis 2021: Deliberating Foreign Policy: Perceptions and Effects of Citizen Participation in German Foreign Policy, in: German Politics, 30: 4, 485-502. Access online .
Anna Geis/Wolfgang Wagner 2021: "What We Are fighting For": Democracies' Justifications of Using Armed Force since the End of the Cold War, in: Brock, Lothar/Simon, Hendrik (eds): The Justification of War and International Order, Oxford: Oxford University Press, 293-310.
Anna Geis 2021: The ambivalence of (not) being in a "war" – the "civilian power" Germany and the "stabilization operation" in Afghanistan, in: Piki Ish-Shalom (Hg.): Concepts at Work: On the Linguistic Infrastructure of World Politics, Michigan: Michigan University Press, 65-90.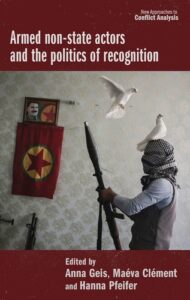 Maéva Clément/Anna Geis/Hanna Pfeifer 2021: Recognising armed non-state actors: risks and opportunities for conflict transformation, in: Anna Geis/Maéva Clément/Hanna Pfeifer (Hg.) 2021: Armed non-state actors and the politics of recognition, Manchester: Manchester University Press, 3-29. Available as open access chapter:  https://www.manchesterhive.com
Christoph Harig 2021: Militarisation by Popular Demand? Explaining the Politics of Internal Military Roles in Brazil, Bulletin of Latin American Research, Open Access: Link.
News from research:
Prof. Dr. Anna Geis is fellow at the Käte Hamburger Kolleg/Centre for Global Cooperation Research Duisburg from 1 October 2021 to 30 September 2022 and will complete the research project "20 Years of the 'US War on Terror' in Afghanistan. A Critial Review of Interventionist Practices and Justifications" there.
The German Research Foundation (DFG) has granted third-party funding for the research project "Recasting the role of citizens in foreign and security policy?" Prof. Dr. Anna Geis and Dr. Christian Opitz (together with Prof. Dr. Hanna Pfeifer) will conduct the DFG-project from 1 June 2022. More information here.
Teaching:
Office hours: For the time being, there are COVID-19 pandemic restrictions in place so that no personal interaction is taking place on campus. Please contact the team members via their email addresses.
Prof. Dr. Anna Geis:
Only after prior registration by email. Please note that Prof. Geis is released from teaching in the academic year 2021-2022 due to a fellowship.