Postal Adress
Postoffice Box 700822
D-22008 Hamburg
Germany
Adress for Visitors
Holstenhofweg 85
22043 Hamburg
Germany
Room: H4, 223
Phone: (040) 6541-2732
E-Mail: gomolla@hsu-hh.de
Office hours: From 1 January to 30 June 2021, I will be on a research leave. Therefore, I am not available all the time. Please contact me by e-mail or Ms Diana Voß in the secretariat (diana.voss@hsu-hh.de) to arrange an individual appointment.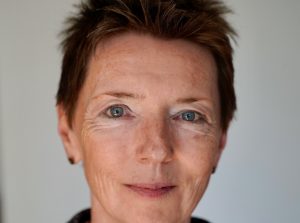 Prof. Dr. Mechtild Gomolla is a lecturer and researcher in the field of Intercultural and Comparative Education with a particular emphasis on the dynamics of globalisation, migration, pluralisation, transnationalisation and internationalisation in the realm of public schooling. In theoretical and empirical research she is especially concerned with the following topics: educational inequality, racism and discrimination in society and state (educational) institutions; education politics and (new) educational governance; discrimination-critical professionalisation of teachers and other educational workers; discrimination-critical institutional development of schools and other educational organisations; normative foundations, theories and concepts of pedagogy with regard to the demands of democratic justice in contemporary (post-)migration societies.
For details on her current research projects please refer to "Forschungsprojekte".
Prof. Dr. phil. Mechtild Gomolla
Vocational Experience
since 10/2009:
Professor for Educational Studies, in particular Intercultural and Comparative Education at the Department of Humanities, Helmut-Schmidt-Universität / University of the German Armed Forces Hamburg; 3/2010 Visiting Professor at the University Fribourg (Switzerland)
10/2008-9/2009:
Deputy Professor for Primary School Didactics at the Institute for Pedagogy of Elementary and Primary Levels at Goethe-University Frankfurt/M.
4-9/2006:
Deputy Professor for General Didactics and School Pedagogy at Paderborn University
3/2003-9/2009:
Research assistant (100%) at the Department of Education at University of Münster; additional teaching assignments at the University of Hamburg (WS 2005/06, SoSe 2006) and Bielefeld University (WS 2007)
4/2002-2/2003:
Scientific assistant (55%) at the Department of Educational and Cultural Sciences of Osnabrück University within the research project "Region des Lernens" (Prof. C. Solzbacher) with teaching assignments in the department of Gender Studies; additional teaching assignment at the University of Münster (WS 2002/03)
10/2001-1/2002:
Research assistant (55%) at the Department of Educational and Cultural Sciences of Osnabrück University within the research project "Region des Lernens" (Prof. C. Solzbacher); additional teaching assignment at Osnabrück University (WS 2001/02)
1/1999-3/2000:
Research assistant (55%) at the Department of Educational and Cultural Sciences of Osnabrück University (Prof. U. Carle); additional teaching assignment at Osnabrück University (WS 2000/01)
1/1995-6/1997:
Scientific assistant (50%) at the Center for Teacher Training of Bielefeld University in the DFG research project "Institutionalisierte Diskriminierung" (Prof. F.-O. Radtke); additional teaching assignment at Bielefeld University (SoSe 1995)
1/1993-12/1994:
Student Assistant (19hs per week) within the DFG project "Institutionalisierte Diskriminierung" mentioned above
1986-1989:
Student Assistant at the Department of Psychology at Bielefeld University
Scientific Qualification
7/1998-9/2001:
Doctoral Scholarship of the Hans Böckler Foundation in the Graduate College "Europäische Integration" at Osnabrück University
PhD Project: "Schulentwicklung in der Einwanderungsgesellschaft. Strategien gegen institutionelle Diskriminierung in England, Deutschland und in der Schweiz" (Supervisor: Prof. M. Krüger-Potratz; graded with 'summa cum laude')
10/1983-9/1994:
Studies in Psychology (Diploma), Sociology (prediploma, subsidiary subject) and Pedagogy (subsidiary subject) at the University Bielefeld (Degree: Diploma in Psychology)
Membership in Scientific Organizations (Selection)
German Educational Research Association(DGfE): Divisions "Intercultural and International and Comparative Educational Research", " School Pedagogy" (since 2003)
Confidential Lecturer of the Hans Böckler Foundation (since 2003)
Rat für Migration e.V. | Council on Migration
Netzwerk rassismuskritische Schulpädagogik | Network of School Pedagogy Critical of Racism
Scientific advisory boards and expert panels (Selection)
Scientific advisory board of the Zeitschrift für erziehungswissenschaftliche Migrationsforschung (ZeM) (since 2020)
Scientific advisory board of the Zeitschrift für Diversitätsforschung und -management (ZDfm) (since 2016)
Advisory board of the project "Vielfalt entfalten – Gemeinsam für starke Schulen" of the Deutsche Kinder- und Jugendstiftung (DKJS) | German Children and Youth Foundation and Stiftung Mercator | Mercator Foundation (since 2020)
Scientific advisory board of the project "Maßstab Menschenrechte: Bildungspraxis zu den Themen Flucht, Asyl und rassistischer Diskriminierung gestalten" conducted by Deutsches Institut für Menschenrechte (DIMR) | German Institute of Human Rights (2017-2019)
Scientific advisory board of the JAKO-O Education Survey "Eltern beurteilen Schule in Deutschland" (Prof. D. Killus, Prof. K.-J. Tillmann) (2011-2018)
Peer Reviews (Selection)
Reviews of articles for various scientific journals (inter alia conflict & communication online, Identities: Global Studies in Culture and Power, International Migration Review, Jahrbuch Organisationspädagogik, Journal of Ethnic and Migration Studies, Migration Studies, Psychologie in Erziehung und Unterricht, Schweizerische Zeitschrift für Soziologie, Zeitschrift für Bildungsforschung, Zeitschrift für Diversitätsforschung und -management, Zeitschrift für Pädagogik, Zeitschrift für Soziologie, Zeitschrift für Soziologie der Erziehung und Sozialisation)
Evaluation of proposals for symposias and working groups for the DGFE-congress
Evaluation of applications for grants for studies and doctoral programmes (Hans Böckler Foundation, Heinrich-Böll-Stiftung, Studienstiftung des Deutschen Volkes, Rosa-Luxemburg-Stiftung)
Reviews of applications for research funding (Swiss National Science Foundation, Netherlands Organization for Scientific Research, Hans Böckler Foundation)
Letzte Änderung: 25. January 2021