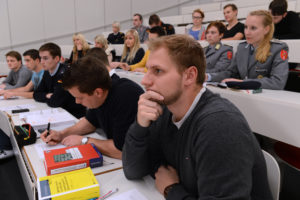 Although the content of a university of the Federal Armed Forces does not differ from public universities, there are some special features.
Year of study divided into trimesters
One trimester lasts 12 weeks, the academic year consists of three trimesters, followed by a three-month lecture-free period. Because a trimester is about two weeks shorter than an average semester at a public university, the number of weekly hours that a student of HSU spends in courses is slightly higher, so that one trimester corresponds in scope to one semester.
Master's degree in four years
The standard period of study is seven trimesters for all undergraduate programs and five trimesters for all master programs. Together this is exactly four years.
All programs are intensive courses, d. H. It is possible to earn up to 75 credit points per ECTS per academic year, whereas public universities only receive up to 60 credit points per year.
Material protection
Student officers and officers are neither dependent on a monthly check from their parents' home, nor do they have to work alongside. They get their salary (depending on age, grade and marital status) during the study period.
Special conditions apply to civil students. When assuming the tuition fees, z. For example, by a company or a foundation, civil students can benefit from the particularly good conditions at the HSU. If required and free capacities, it is also possible for civil students to live on campus in return for a flat-rate living allowance.
Campus university
Students do not need to spend time looking for a "dorm room". They live in comfortable dormitories directly on the campus (Holstenhofweg) or in the nearby residential area of ​​the university (Stoltenstraße). On a residential level (as our students call the corridor or the floor where they live), usually only students of the same discipline but of different age groups live, so the older ones can support the younger students.
If required and free capacities, it is also possible for civil students to live on campus in return for a flat-rate living allowance. On campus, in addition to the facilities for research and teaching, the libraries, the cafeteria and the sports facilities are located. Doctors and Dentists, a Protestant and a Catholic community, even a hairdressing salon there. This ensures short distances save a lot of time that can be used for more important things.
Small group concept
Also, study in small groups is an integral part of the ambitious study concept at a university of the Federal Armed Forces and contributes to the fact that the study in the normal period of study is to create. Apart from the few lectures, most courses take place in groups with no more than 25 participants.
Above average equipment
To ensure that the trimester system works and that the tight standard period of study can be complied with, a particularly good level of staffing and material resources is indispensable.
The support ratio is unusually good here: for every 25 students comes a professor.
ISA – Interdisciplinary Study Components
Interdisciplinary study parts are also available at public universities. The term "Studium generale" refers to what the students can optionally study as part of their studies. At the HSU, however, the minor subject study of the ISA is obligatory.
Course of studies
Letzte Änderung: 1. December 2020