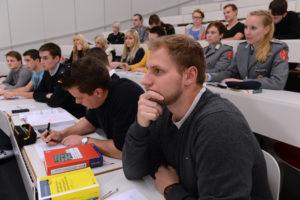 Although studies at a Bundeswehr university do not differ from public universities as regards content, there are nonetheless a couple of special features.
The academic year is divided into trimesters
One trimester lasts 12 weeks; the academic year is split into three trimesters followed by a three-month break. As a trimester is about two weeks shorter than the average semester at a public university, the number of lessons per week an HSU student spends in lectures is somewhat increased so that a trimester corresponds to a semester as regards the amount of lectures attended.
Graduation with a master's degree after four years
For all bachelor's and master's programmes, the standard duration of study is seven and five trimesters respectively. Together, this equals a period of four years. All our academic courses are intensive study programmes. This means that up to 75 ECTS credit points can be obtained per academic year, whereas students at public universities can only obtain up to 60 credit points per year.
Financial security
German officers and officer candidates studying at the HSU neither depend on a monthly check from their parents nor do they need a job to pay for their studies. They receive their salary (depending on age, rank and marital status) even while they are studying. Special conditions apply to civilian students.
Campus university
Students do not have to waste time trying to find some cheap place to live. They live in comfortable hostels directly on campus (Holstenhofweg) or in the university's nearby living quarters (Stoltenstraße, Jenfelder Allee). Normally only students from the same branch of study but from different classes share one corridor or floor. This way the older students can support the younger members of the community. If required, and where capacities allow, civilian students have the possibility to live on campus against payment of an accommodation fee. In addition to the academic and research buildings the campus also hosts libraries, a cafeteria and sports facilities. Medical practitioners and dentists, a Protestant and a Catholic community are located here. Pretty much everything is within easy walking distance, saving precious time.
Concept of small group teaching
An integral part of the ambitious study concept of Bundeswehr universities is the concept of studying in small groups, thereby enabling the students to complete their studies within the standard period of study. Apart from the few lectures held in large auditoriums, most classes are conducted in groups of up to 25 students.
Being a university of the German Armed Forces, nearly all courses and lectures are taught in German language.
Above-average equipment and personnel resources
Very high standards regarding personnel and equipment are mandatory to ensure the proper functioning of the trimester system and to enable the students to complete their studies within the short standard period of study. The university has an exceptionally favorable professor/student ratio: One professor supervises 25 students.
Interdisciplinary studies
Interdisciplinary study elements are also available at public universities. There, courses that students can attend voluntarily—in addition to their compulsory classes—are referred to as "Studium Generale" (extracurricular studies). At the HSU, however, attending interdisciplinary study elements as a subsidiary subject is mandatory.
---
Study Programmes
Letzte Änderung: 14. January 2021